US calls for honest talks with China on cyber threats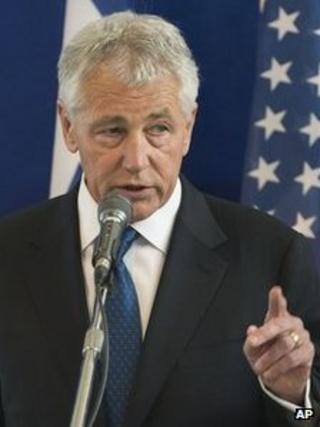 US Defence Secretary Chuck Hagel has called for honest dialogue with his Chinese counterparts about cyber threats and online spying.
His remarks come amid reports Chinese hackers had accessed secret US weapons programmes and other defence technologies.
Mr Hagel said the US knew the origin of many of the incursions.
"There's only one way to deal with these issues: that's straight up," he said.
US officials say the breaches are part of a broad Chinese campaign of computer espionage.
Rules of the road
The defence secretary was speaking to reporters en route to an international security conference in Singapore.
He said the US and China must develop "rules of the road" to mitigate the threat.
Cyber security is due to be discussed for the first time at a meeting of Nato defence ministers next week.
The US has been warning for years about China's online spying programme aimed at US military and high-tech research.
But as the US seeks to increase its military presence in the Asia-Pacific region, worries are increasing that China could use the information it has gained to blunt US military superiority.
Mr Hagel pointed to an "evolving" relationship between the two countries' militaries.
He has invited his Chinese counterpart, Chang Wanquan, to Washington DC in August.
US President Barack Obama is due to meet the new Chinese leader, Xi Jinping, in California next week.