Canadian 'Black Widow' jailed for poisoning husband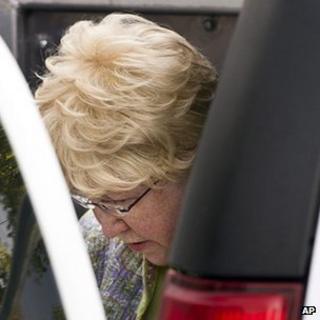 An elderly Canadian woman dubbed the "Black Widow" has been sentenced to three-and-a-half years in prison for drugging her husband on their honeymoon in Nova Scotia.
Melissa Ann Shepard, 78, pleaded guilty to administering a noxious substance.
She was charged last year after Fred Weeks fell ill at a bed and breakfast.
She has prior convictions, including for the manslaughter of her second husband in 1992, whom she drugged and ran over twice in a car.
She was also sentenced to five years in prison, in 2005, for seven counts of theft from a man in Florida whom she met online and with whom she lived for a month.
Shepard was charged, last October, after her latest husband fell ill from the effects of tranquilisers mixed into his coffee on board a ferry from Nova Scotia to Newfoundland on their honeymoon last September.
The court heard that Fred Weeks came aboard the ferry fit enough easily to walk the 200 metres (220 yards) from his car to a lift.
Hospitalised
But the next day he needed a wheelchair, could not put on his shoes and did not know where his car keys were.
The following night, at a bed and breakfast inn, Mr Weeks fell out of bed and was taken to hospital. He survived.
A statement was read out in court, saying that Shepard misinformed doctors about her husband's health, saying he had prostate problems and was suffering from dementia and chronic obstructive pulmonary disorder.
She also told the hospital that Mr Weeks, who is a father of six adult children, had no other family than her.
A charge of attempted murder against Shepard was dropped because the prosecution could not prove that she had intended to kill him.
Her sentence will be reduced to two years and nine months because of the time she has already served in custody before the trial.
Her lawyer had argued for a shorter sentence, saying Shepard felt remorseful.