Montreal Mayor Michael Applebaum held in corruption probe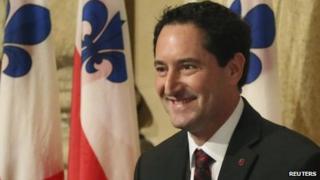 Montreal's mayor has been arrested by Quebec's anti-corruption unit on fraud charges, months after his predecessor resigned amid corruption allegations.
Michael Applebaum faces 14 charges, including defrauding government.
In February, anti-corruption police raided city hall and the offices of a borough that Mr Applebaum once represented.
The arrest is the latest in a string of scandals surrounding Canadian local politics.
In the neighbouring province of Ontario, Toronto Mayor Rob Ford denies allegations that he appeared in a video smoking crack cocaine.
Mr Applebaum, Montreal's first Anglophone mayor in 100 years, was arrested early on Monday at his home.
"The corruption and collusion will no longer be tolerated," Robert Lafreniere, head of the anti-corruption unit, told reporters. "No-one is above the law."
Mr Applebaum entered Montreal's city hall after former Mayor Gerald Tremblay resigned amid allegations relating to illegal donations. Mr Tremblay denies all wrongdoing.
Mr Applebaum began his term as interim mayor in November, vowing to fight corruption
The charges against him stem from alleged acts before he became city mayor, during the years when he served as borough mayor, 2006-11.
Officials offered few details, but said the charges are related to real estate projects in Montreal.
Two officials with ties to Mr Applebaum's borough, Cote-des-Neiges-Notre-Dame-de-Grace, were also arrested by anti-corruption police on Monday.
Several Quebec leaders are calling for the mayor to resign.
His arrest comes a month after the mayor of nearby Laval was also detained on corruption charges.