Edward Snowden stands by leak allegations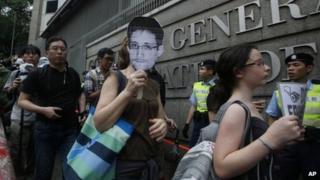 The former intelligence contractor who leaked documents on US surveillance programmes has defended himself in an online chat, the Guardian reports.
Edward Snowden, 29, said US officials had destroyed any possibility of a fair trial by labelling him a traitor.
He also denied suggestions he was a Chinese agent and repeated his claim that intelligence analysts could wiretap any phone call or email.
Director of National Intelligence James Clapper has denied such allegations.
Mr Clapper has said the kind of data that can be accessed, and who can access it, is severely limited.
'Litany of lies'
But in the online chat, Mr Snowden said such restrictions were easily circumvented.
He acknowledged that the US internet surveillance programme did have a filter that was meant to exclude American citizens.
But he added: "The filter is constantly out of date, is set at what is euphemistically referred to as the 'widest allowable aperture,' and can be stripped out at any time."
Mr Snowden said he had decided to speak out after observing "a continuing litany of lies" from senior officials to Congress.
"The US government, just as they did with other whistleblowers, immediately and predictably destroyed any possibility of a fair trial at home, openly declaring me guilty of treason," Mr Snowden wrote.
Two influential members of the US Congress last week accused him of betraying his country, and former Vice-President Dick Cheney on Sunday denounced Mr Snowden as a "traitor".
Of claims that he was working for Chinese intelligence, Mr Snowden said: "This is a predictable smear that I anticipated before going public."
He added that he had no intention of going back to the US or turning himself in.
"The US government is not going to be able to cover this up by jailing or murdering me," he said.