Trayvon Martin case: LAPD crackdown subdues protests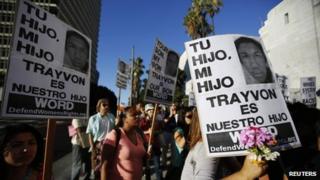 A show of force by Los Angeles police has ensured a fourth night of protests stayed peaceful, after Florida's not-guilty verdict over a black teenager's death.
Some 200 people marched peacefully through the city centre on Tuesday.
And a rally at a park in the Crenshaw district, which saw ugly scenes on Monday night, was also trouble-free.
George Zimmerman, 29, was cleared on Saturday of 17-year-old Trayvon Martin's death in February 2012.
"Rights will be respected," Mayor Eric Garcetti said on Twitter: "Crime will not be tolerated."
During Tuesday night's march between city hall and police headquarters, demonstrators appeared at times to be outnumbered by police, including officers on horses.
Police had vowed to ensure no repeat of the disturbances a night earlier when 14 arrests were made as a splinter group of protesters in Crenshaw jumped on cars, punched bystanders and vandalised property.
Meanwhile, US Attorney General Eric Holder cited the Trayvon Martin case as he urged a nationwide review of stand your ground laws, which permit the use of deadly force if a person feels seriously threatened.
"It's time to question laws that senselessly expand the concept of self-defence and sow dangerous conflict in our neighbourhoods," America's top prosecutor said in a speech to the National Association for the Advancement of Colored People's convention on Tuesday in Orlando, Florida.
The ousted police chief in Sanford, the Orlando suburb where Trayvon Martin was shot, had cited Florida's stand your ground measure as his reason for not initially arresting Mr Zimmerman.
Stand your ground was never raised during the trial, though the judge included a provision about the law in her instructions to the jury, allowing it to be considered as a legitimate defence.
On Tuesday, broadcaster Rev Al Sharpton said there would be a civil rights conference next week to address stand your ground.
He is also planning "Justice for Trayvon" rallies at noon on Saturday in 100 cities around the US, appealing for federal civil rights charges to be brought against Mr Zimmerman.
The US Department of Justice has said it will resume its investigation into whether Trayvon Martin's civil rights had been violated during the fatal confrontation.
In order to file civil rights charges, they would have to show that Mr Zimmerman was motivated by racial animosity.
Trayvon Martin's family has said the teenager was racially profiled, but no evidence of racial bias was presented during the trial.
American soul singer Stevie Wonder reportedly said on Sunday he would not perform in Florida, or any other jurisdiction with a stand your ground law.
"Wherever I find that law exists, I will not perform in that state or in that part of the world," he told fans at a concert in Quebec City, Canada.