US bicyclist who killed pedestrian, 71, is spared jail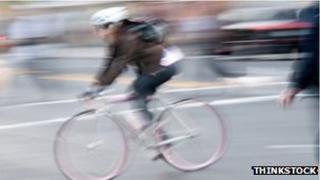 A US bicyclist who struck and killed a 71-year-old pedestrian has admitted felony vehicular manslaughter but will be spared jail, prosecutors say.
Chris Bucchere, 37, hit Sutchi Hui at a San Francisco crossing in March 2012 after riding recklessly through three red lights, prosecutors say.
Hui, who was walking with his wife when struck, died four days afterwards.
Under a plea deal Bucchere will be sentenced to three years of probation and 1,000 hours of community service.
Hui died from blunt force trauma as a result of the collision in the city's central Castro district. His wife was unhurt.
But the victim's family did not want to see Bucchere jailed, said San Francisco District Attorney George Gascon.
He added in a statement: "Our goal is to send a message to cyclists about safety.
"Just because you are riding a bicycle doesn't mean all bets are off. All of the rules of the road that apply to everyone else apply to you, too."
In 2012, another San Francisco bicyclist admitted a manslaughter charge after slamming into and killing a 67-year-old woman. That cyclist was also spared prison time.