Cleveland kidnap victim Amanda Berry in concert appearance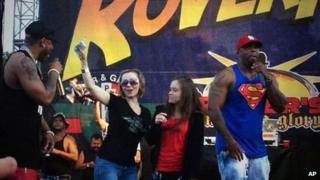 One of three women held captive for a decade at a home in Cleveland, in the US state of Ohio, has made her first public appearance three months after her escape.
Amanda Berry appeared at a concert a day after her abductor pleaded guilty to kidnap and rape charges.
She walked onstage with her family and waved to the cheering crowd.
It comes after Ariel Castro, 53, agreed a plea deal that will see him imprisoned for life without parole.
He abducted Ms Berry, now 27, as well as Michelle Knight, 32, and Gina DeJesus, 23, from the streets of Cleveland, Ohio, between 2002-04.
Castro was charged with 977 counts including two of aggravated murder for the "unlawful termination" of one of the women's pregnancies, as well as multiple counts of kidnapping and rape.
Partying
Ms Berry appeared at the Cleveland's RoverFest 2013 on Saturday.
She was introduced onstage by a local radio host who had invited her to attend the music festival on his show Rover's Morning Glory.
The host, Shane French, told the Associated Press news agency he was as surprised as anyone when she arrived.
"I just said that she had 10 years of partying to make up for and she should come,'' he said.
US rapper Nelly called Ms Berry back to the stage after his music set at the festival.
She vanished on 21 April 2003 after leaving her job at a Burger King restaurant - a day before her 17th birthday.
The women were discovered in May after Ms Berry attempted to flee the house where they were being held when Castro went out.
She attracted the attention of neighbour Charles Ramsey, who managed to help her.
When officials arrived they freed Ms Knight and Ms DeJesus, as well as Ms Berry's six-year-old daughter, who was fathered by Castro.
The women thanked the public for their support in a YouTube video earlier in July.