George Zimmerman questioned after domestic disturbance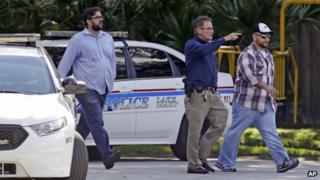 The estranged wife of a Florida man acquitted of murder after the fatal shooting of an unarmed black teenager says he threatened her with a gun.
Shellie Zimmerman also told police George Zimmerman had punched her father and smashed her tablet computer. He blamed his wife and denied wrongdoing.
He was briefly taken into custody and questioned but has not been charged.
In July, Mr Zimmerman was acquitted of second-degree murder over the February 2012 killing of Trayvon Martin, 17.
Mr Zimmerman shot dead the teenager, who was unarmed and walking at night toward his father's house. He told investigators the boy had attacked him.
On Monday, police responded to a call from the Zimmermans' central Florida home after Mrs Zimmerman told an emergency official her husband was sitting in his car with his hand on a gun.
Mrs Zimmerman also told authorities she was afraid of Mr Zimmerman, 29, after he allegedly punched her father in the nose and grabbed a tablet computer out of her hand and smashed it.
Hours later, she changed her story and said she had never seen a firearm, police said.
Both Mrs Zimmerman and her father declined to press charges.
Mrs Zimmerman, 26, filed for divorce on 5 September, a week after she was sentenced to a year's probation and 100 hours of community service for perjury in connection with Mr Zimmerman's murder trial.
Mrs Zimmerman had admitted lying about assets the couple shared during a June 2012 bail hearing.