Stephen Francis Bukucs 'aimed lasers at planes'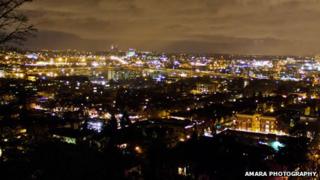 A man in the US state of Oregon has been arrested on charges of aiming a laser pointer at two commercial airliners, authorities have said.
Stephen Francis Bukucs was arrested in Portland on Friday and is accused of aiming the laser at United Airlines and JetBlue aeroplanes on 13 October.
Authorities say Mr Bukucs is the first adult to face prosecution for such charges in Oregon.
He pleaded not guilty in a court appearance on Monday.
The private security guard, 39, "knowingly aimed the beam of a laser pointer" at the aircraft, according to court documents.
Mr Bukucs' arrest was the result of a joint investigation by the FBI, the Federal Aviation Administration (FAA) and Portland police, according to the US Attorney's Office for the District of Oregon.
'Endangered hundreds'
Knowingly aiming a laser pointer at an aircraft is a felony offence under federal law and carries a maximum sentence of five years in prison and a $250,000 (£154,964) fine, the office said in a statement.
"His conduct in this case was extremely dangerous,'' Assistant US Attorney Stephen Peifer said in court on Monday.
"It literally endangered hundreds of people."
Mr Bukucs's lawyer said his client was addicted to pain killers after a workplace injury and suffers from depression, the Associated Press news agency reported.
Magistrate Judge Dennis Hubel ordered a mental health evaluation for Mr Bukucs, who has no criminal record.
The FBI found several firearms in Mr Bukucs's home, all of which save one the court ordered him to surrender.
Green laser pointers, which Mr Bukucs stands accused of using, can reach objects up to 25,000ft (7,620m) away and can temporarily blind pilots.
The FAA has received more than 15,000 reports of lasers being aimed at aircraft since 2005.