US Senator Jim Inhofe's son dies in plane crash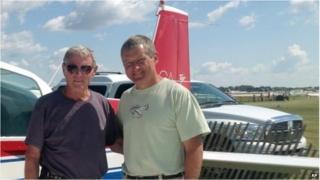 The son of an Oklahoma senator was killed in a plane crash outside a Tulsa airport at the weekend, according to the US defence secretary.
Dr Perry Inhofe, 52, son of Republican Jim Inhofe, was a licensed pilot and the sole victim of Sunday's crash, local media reported.
In a statement, Pentagon chief Chuck Hagel said he was "deeply saddened to learn" of Inhofe's death.
Officials say they have not found a preliminary cause for the crash.
Nor have they commented on the identity of the deceased.
The elder Mr Inhofe, 79, underwent quadruple bypass heart surgery last month.
Local media reported the death on Monday, citing sources close to the Oklahoma senator's family as well as the plane's registration documents. The senator's office has not released a statement about the crash.
The Tulsa World reported that the aircraft had been bought by a firm owned by Dr Inhofe, an orthopaedic surgeon and keen aviator, in September.
Tulsa International Airport received a request for immediate assistance at 15:45 local time (21:45 GMT), about 15 minutes before the crash, local broadcaster KOCO reported.
The plane, a Mitsubishi twin turboprop, had taken off from an airport in the state of Kansas.
It had been on approach to the Tulsa airport before the accident, a National Transportation Safety Board investigator said on Monday.
One witness told the newspaper he saw the plane circle around nearby before it nosedived and burst into flames.
"It was fully engulfed when we got there and it looked like the wings had come detached," Jake Bray told the World. "There were tires popping... There was nothing we could do."