Air Force anti-assault officer Jeffrey Krusinski acquitted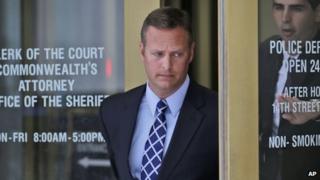 The officer tasked with stemming sexual assault in the US Air Force has been acquitted on charges he groped a woman outside a bar in May.
Lt Col Jeffrey Krusinski was arrested following an altercation on a street outside of Washington DC.
The alleged victim said he grabbed her backside, provoking her to physically attack him.
The case drew attention to what critics have described as an epidemic of sexual assault in the US military.
On Wednesday evening Lt Col Krusinski, 42-year-old former head of the Air Force's sexual assault prevention branch, was acquitted of misdemeanour assault in an Arlington, Virginia, court.
Alleged groping
Prosecutors had initially charged him with sexual battery, but reduced the charge.
The accuser, 23, testified that on the night of 5 May Lt Col Krusinski approached her from behind and gave her a "squeeze", then "asked me if I liked it".
She then physically attacked him, pummelling him about the face.
A bar employee testified she witnessed the alleged grope and said Lt Col Krusinski had also groped another bar employee moments before.
His defence pointed to what it called inconsistencies in the alleged victim's story, particularly how many times she struck Lt Col Krusinski. The lawyer also suggested any contact with the woman's body was inadvertent.
Jury forewoman Alison Kutchma said prosecutors "did not present evidence to meet the threshold of reasonable doubt. Our job was to look at the evidence," the Associated Press reported.
Lt Col Krusinski had faced up to one year in prison if convicted. The Air Force reassigned him from his previous post following his arrest.
They have not yet announced what further action, if any, they will take against him.