Dallas marking where John F Kennedy was shot is removed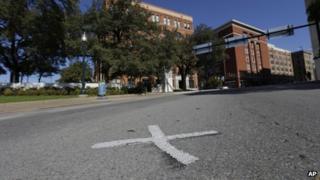 The "X" street markings indicating where US President John F Kennedy was assassinated have been removed from Dealey Plaza in Dallas, Texas.
Workers are laying asphalt to level the street in preparation for events on Friday commemorating the 50th anniversary of Kennedy's death.
Kennedy was shot by Lee Harvey Oswald as his motorcade passed through the plaza on 22 November 1963.
Memorial events are expected to draw large crowds this week.
Dallas city spokesman Frank Librio said city workers paved over the street - and the "X" marks - in an effort to remove any hazards.
"With thousands visiting the area this week, we think that is prudent," he told the media.
City officials are unaware of who originally placed the "X" markings, located along the city's Elm Street.