US Supreme Court upholds new Texas abortion law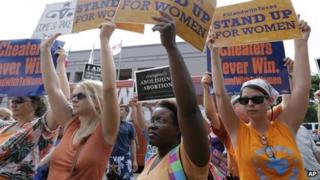 The US Supreme Court has declined to block implementation of a new Texas law limiting abortion access.
The court voted 5-4 in favour of a provision requiring doctors performing abortions to have admitting privileges at a nearby hospital.
Abortion rights groups had challenged the law passed in July by the Republican-led Texas Legislature.
The court's four liberal justices said they would have overturned a lower ruling allowing the law to take effect.
The sweeping anti-abortion legislation has affected a third of Texas abortion clinics, prompting dozens to stop providing the procedure.
Among other restrictions, the law also limits the use of abortion-inducing drugs, bans abortions at the 20th week of pregnancy and requires doctors to perform abortions at special surgical facilities.
'Sensitive and controversial'
After the law passed in July, Planned Parenthood and other abortion providers in the state sued, arguing it would force many to close.
In his majority case opinion, conservative Justice Antonin Scalia said the four high court's liberal judges "flout core principles of federalism by mandating postponement of a state law without asserting that the law is even probably unconstitutional".
But liberal Justice Stephen Breyer said he would have preferred blocking the law to maintain "the status quo", allowing lower courts to handle the "difficult, sensitive and controversial legal matter".
The case currently remains on appeal in the 5th US Circuit Court of Appeals in New Orleans, Louisiana.
The law will remain in effect until that court hears arguments currently scheduled for January.
Opponents of the law had gained ground in late October when a Federal District Judge ruled it unconstitutionally restricted women's access to abortion.
But Texas Attorney General Greg Abbott filed an emergency appeal and a panel of the Fifth Circuit Court of Appeals reversed the ruling.
Mr Abbott, a Republican, is expected to run for governor of Texas against Democratic State Senator Wendy Davis, who has been an outspoken opponent of the new abortion restrictions.