Two die in air ambulance crash off Florida coast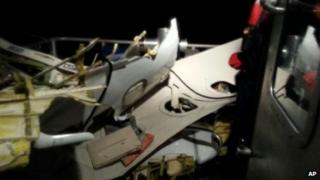 Two people are dead and two others missing, presumed dead, after an air ambulance crashed off the coast of Florida.
The Learjet took off from a private terminal in Fort Lauderdale en route to Mexico on Tuesday, plunging into the water only a mile (1.6 km) offshore.
Two pilots, a doctor and a nurse were on board, airport spokesman Greg Meyer said.
They were returning to Cozumel after dropping off a patient in Florida.
Local broadcaster WSVN reported that one of the pilots had issued a distress call shortly after take-off, saying there had been an engine failure. The plane attempted to return to the airport.
Coast Guard officials recovered two bodies shortly after beginning their search on Tuesday evening.
US Coast Guard Lt Paul Turner said on Wednesday morning that the search would continue for the rest of the day.
The National Transportation Safety Board is investigating the crash.