US cocaine congressman Trey Radel takes leave of absence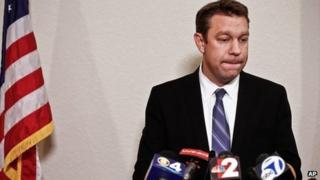 A Florida congressman who received a year's probation after pleading guilty to cocaine possession has announced he is taking a leave of absence.
Representative Trey Radel, 37, who says he has been struggling with alcoholism and substance abuse, pledged to donate his salary to charity.
The Republican told his constituents: "I want to be a better man."
He recently voted for a bill containing a measure that mandated drug tests for poor Americans who apply for food aid.
'Struggle with abuse'
On Wednesday morning, Radel admitted buying 3.5g (0.12oz) of cocaine from an undercover agent on 29 October in Washington DC.
After the $250 (£155) changed hands, officers swooped and he dropped the drugs.
Later on Wednesday, he announced his leave of absence at a news conference in his office at Cape Coral on Florida's west coast.
He did not say how long he planned to take off, nor which charity would receive his salary.
"I'm not going to sit here and make any excuses for what I've done," said Radel, who was elected by a wide margin last year with the support of Tea Party activists.
"I have let down our country. I've let down our constituents. I've let down my family, including my wife.
"And even though he doesn't know it, I've let down my two-year-old son."
He said he has been struggling with alcoholism and substance abuse "off and on for years".
Radel gave no sign that he was going to quit. Earlier he said in court he wanted to "continue serving this country".
His lawyer said his client was already undergoing drug treatment.
If Radel finishes his year of probation without further incident the charge against him will be dismissed and his record may be expunged.
Meanwhile, his voting record is coming under renewed scrutiny after political reporters highlighted his vote in September in favour of a bill that contained a provision requiring food-stamp applicants to get drug tested.
During debate on the amendment, Jim McGovern, one of the Democratic legislators who opposed the measure, was quoted as saying: "Why don't we drug test all the members of Congress here? Force everybody to go urinate in a cup or see whether or not anybody is on drugs?"