Ex-National Hockey League players in concussion lawsuit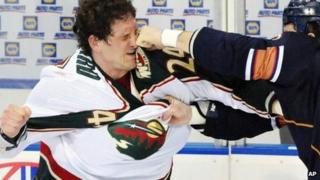 Ten former players have sued the National Hockey League (NHL), accusing it of not doing enough to prevent concussions.
The lawsuit seeks damages and medical monitoring for all NHL players who retired before 14 February 2013.
The case comes three months after the National Football League paid $765m (£474m) to settle a similar action.
Both lawsuits allege their respective leagues hid the dangers of repeated concussions from their players.
Studies have linked multiple concussions with chronic traumatic encephalopathy, a disease with symptoms including memory loss and mood swings.
'Culture of violence'
The NHL has not responded to the lawsuit, but earlier this year Commissioner Gary Bettman said the league had "a long history, going back to 1997, of taking concussions very seriously".
"We spend a lot of time, money and effort working with the players' association on player safety."
The lawsuit alleges that despite the creation of a programme to study brain injuries in 1997 the league took no action to reduce the number or severity during a study period from 1997 to 2004.
"Plaintiffs relied on the NHL's silence to their detriment," the lawsuit says.
The league is also faulted for waiting until 2010 to make targeting a player's head a penalty, continuing to not ban fighting or body-checking and promoting a "culture of violence" by employing "enforcers" who are only on the hockey rink to fight.
"The NHL's active and purposeful concealment of the severe risks of brain injuries exposed players to unnecessary dangers they could have avoided had the NHL provided them with truthful and accurate information and taken appropriate action to prevent needless harm," the lawsuit says.
Former All-Star defenceman Gary Leeman and Toronto Maple Leafs scorer Rick Vaive are among those who have joined the class action against the North American league.
In a statement, Vaive said hockey players "were kept in the dark about the risks of concussions and many of the former NHL players are now suffering from debilitating head injuries from their time in the league".