Sears Canada to axe nearly 800 jobs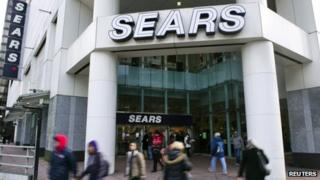 Retail chain Sears Canada has announced it is laying off nearly 800 employees, as it fights to compete with rivals like Nordstrom.
The redundancies announced on Tuesday will affect 712 staff in repair services and 79 at head office.
The company also expects to contract from 118 stores to 111 by 2015.
The layoffs will occur over the next six months and are "designed to improve efficiency, profitability and overall customer experience", the firm said.
Sears Canada, which currently has 25,000 employees, has also agreed to sell leases back to landlords for hundreds of millions of dollars as it struggles to raise cash and sell off assets, according to media reports.