Paul Walker: Tributes flood in from stars and public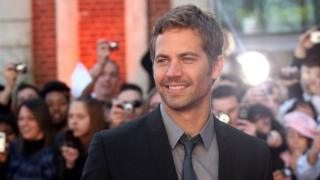 Friends, co-stars and fans of Paul Walker have been expressing their shock and sadness at the US actor's death in a car crash near Los Angeles.
On Facebook...
The late actor's publicists shared the news of his death on Facebook.
"It is with a truly heavy heart that we must confirm that Paul Walker passed away today in a tragic car accident while attending a charity event for his organization Reach Out Worldwide.
"He was a passenger in a friend's car, in which both lost their lives. We appreciate your patience as we too are stunned and saddened beyond belief by this news.
"Thank you for keeping his family and friends in your prayers during this very difficult time. We will do our best to keep you apprised on where to send condolences," the statement said.
His co-stars...
Walker's Fast and Furious co-star Vin Diesel wrote on his Twitter account: "Brother I will miss you very much. I am absolutely speechless. Heaven has gained a new Angel. Rest in Peace xxx"
In a second post he wrote: "My brother and I... we aimed for the stars together... and achieved more than we ever hoped we could with f&f."
Another co-star Ludacris wrote on instagram: "Your humble spirit was felt from the start, wherever you blessed your presence you always left a mark, we were like brothers & our birthdays are only 1 day apart, now You will forever hold a place in all of our hearts @paulwalker legacy will live on forever. R.I.P"
Universal Pictures, the company behind the film franchise, released a statement.
"All of us at Universal are heartbroken. Paul was truly one of the most beloved and respected members of our studio family for 14 years, and this loss is devastating to us, to everyone involved with the Fast and Furious films, and to countless fans."
Industry colleagues...
Mark Webb, who works on the set of the Fast and Furious films, said: "As far as people go, they didn't come any finer, any more gracious. He always treated everybody with respect.
"This one hurts. This one hit right in the gut on this one," he told ABC News Radio.
A friend of Walker's, Bill Townsend, was at Saturday's charity event also attended by Walker to support the Philippines typhoon relief effort.
Mr Townsend told AP Radio: "He was very happy. He was smiling at everybody, just tickled that all these people came out to support this charity. He was doing what he loved. He was surrounded by friends, surrounded by cars."
Hollywood actress Goldie Hawn tweeted: "Our family mourns the loss of Paul. A very special human being. Our prayers go his beloved family."
Actor James Franco wrote on Twitter: "So sad. He gave a lot of joy."
Model and actor Tyson Beckford posted "RIP Paul Walker, loved working with you on "Into the Blue". I Will miss you."
US radio and TV host Carson Daly said he was "sick about the tragic loss of #PaulWalker. I enjoyed our time together very much. Such a really nice guy. Prayers to his family and friends."
Walker's fans...
Here are a few of the many emails the BBC has received, which echo the sentiment of fans across the world:
Felix in Botswana emailed the BBC: "I was truly saddened by the death of Paul Walker. Fast and Furious will not be the same without you Paul."
Lorgina in the Philippines told the BBC: "It breaks my heart knowing that my Idol past away, I have been a big fan of Paul Walker. He will always stay in our hearts."
"He was a real actor. Fast & Furious is incomplete without him. My deepest condolences to his family; may his soul rest in peace. Thanks for all Paul Walker. I'll miss you," says Jasper in Bangladesh.
"I met Paul Walker in May at the Fast & Furious 6 UK Premiere, what a wonderful man, so nice and always willing to have a laugh with his fans. Waking up to this incredibly sad news is so horrible, shocked. RIP," wrote Dex in the UK.
Lemuel in Zambia wrote: "Actors like Walker become a part of our lives, they entertain, inspire and sometimes take us to places we've never been through their roles in movies. I will greatly miss him."