Canada charges man over 'bid to spy for China'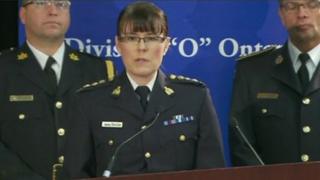 Canadian police have arrested and charged a man on suspicion of intending to pass classified information to China.
The Canadian national, named as Qing Quentin Huang, is accused of seeking to sell information about Canada's warship procurement strategy.
Mr Huang, 53, had worked for a firm involved in ship design, police said. He was thought to have acted alone.
The maximum sentence for the charges he faces is life imprisonment.
Advantage
Mr Huang, from Waterdown, Ontario, was arrested in Toronto on Saturday, two days after police were informed of suspicions about his activities.
He was working as an engineer for Lloyd's Register, a company sub-contracted by Canada's biggest shipbuilder, Irving Shipbuilding, police said.
Irving won a 2011 contract to supply military vessels for Canada's Arctic Offshore Patrol Ships (AOPS) but Lloyd's Register said he had no direct access to any classified information regarding that work.
Mr Huang faced two charges of attempting to communicate with a foreign entity, Police Superintendent Jennifer Strachan told reporters.
"In these types of cases, sharing of information may give a foreign entity a tactical, military or competitive advantage by knowing the specifications of vessels responsible for defending Canadian waters and Canadian sovereignty," she told a news conference.
She gave no details of the information Mr Huang was accused of trying to supply China with.
He is expected to appear in court on Wednesday for a bail hearing.
Last February, Canadian naval intelligence officer Jeffrey Paul Delisle was given a 20-year jail term for selling military secrets to Russia.