Jesse Owens 1936 Berlin Olympics gold medal goes on auction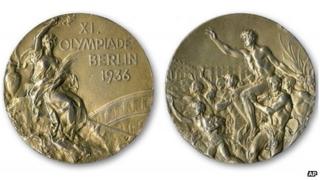 An Olympic gold medal won by African-American athletics star Jesse Owens at the 1936 Berlin Games has been put up for auction online.
The medal is one of four won at the event by Owens, who undermined the Nazi plan to make the Games a showcase of their Aryan supremacy doctrine.
But Owens faced discrimination and limited job opportunities when he returned home to a segregated US.
The whereabouts of his other three gold medals are unknown.
Owens won gold in the 100-metre and 200-metre races, the 400-metre relay and the long jump.
'Performance for the ages'
"Almost singlehandedly, Owens obliterated Hitler's plans," Dan Imler, from SCP Auctions, said.
"You've got an African American, son of a sharecropper, grandson of slaves who overcame these incredible circumstances and delivered a performance for the ages."
The Ohio star ended his athletics career as an amateur runner who accepted money to race against cars, horses and dogs.
He later became a pack-a-day smoker and died in Phoenix, Arizona, in 1980, aged 66, from lung cancer.
Owens' daughter, Marlene Owens Rankin, said even though he had broken records and come back "an Olympic hero, he wasn't offered opportunities that Olympic heroes of today are offered".
"We lived well, a middle-class life. We didn't want for much. But like many black men of that era, he struggled to provide for his family.
"We just hope that it's [the medal is] purchased by an institution where the public could have access to it, a museum or something like that," Ms Rankin added.
The medal on auction is from the estate of the widow of Bill "Bojangles" Robinson, an African-American dancer and movie star who became friends with Owens after he returned from the 1936 Games.
"Bojangles helped Owens get work in the entertainment field," Mr Imler said. "Owens gave him this medal out of gratitude and as a token of their friendship."
According to the auctioneer, the family plans to use the proceeds of the auction to pay college tuition and contribute to charity.
The auction, which closes on 7 December, is expected to fetch as much as $1m (£611,000).