Afghanistan and Russia debate corruption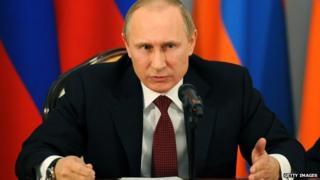 Afghan media argue over reported corruption - while Russians try to stop criminal behaviour among officials. And people go to the polls in India.
A monitoring organisation called Transparency International publishes an annual report, Corruption Perceptions Index, which looks at countries around the world.
The report bases its rankings on data collected from the World Bank, the Economist Intelligence Unit and other organisations. And this year, according to the report, Afghanistan is one of the most corrupt nations.
Journalists in Afghanistan have examined the findings - and come to different conclusions.
"Eighty percent of corruption is caused by foreigners in Afghanistan," say editorial writers for a privately owned Afghan daily called Sarnawesht.
"Corruption can be curbed in Afghanistan only if [foreign troops] withdraw from Afghanistan or their presence is legalised," they write.
In contrast the editorial writers for a privately owned publication, the Daily Afghanistan, say that the Transparency International report has merit.
"Afghanistan is still one of the world's most corrupt countries," they write. "The annual reports issued by ministries and governors paint a different picture of the country.
"They suggest that there is no problem in Afghanistan at all, but the reality is different. We can honestly say that all of those reports are untrue."
Meanwhile in Moscow President Vladimir Putin is reportedly trying to root out corruption. In newspaper offices, however, writers are sceptical about his efforts.
"The new directorate will be a strictly bureaucratic structure whose work is limited to receiving official information from ministries and departments and studying it," say writers for a newspaper called Vedomosti.
"There is no clear procedure for how the new structure will be providing information to the general public.
"The presidential decree pays very little attention to co-operation with society or its activists who on their own initiative look for information on bribes, kickbacks, undeclared property and conflicts of interests."
Millions are voting in state polls in India. Writers for the Times of India describe one of the elections - in Delhi - as "hotly contested, evenly matched and unpredictable".
These elections have important implications for the future. Writers for the Indian news agency, Press Trust of India, say that they are "seen as the semi-final for the Lok Sabha", referring to parliamentary elections that will be held next year.
(From reports provided by BBC Monitoring)