China calls Canadian naval spy allegations 'baseless'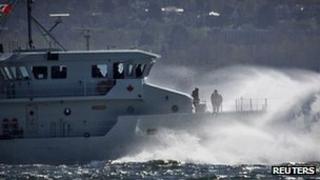 Chinese officials have dismissed allegations an Ontario engineer passed China secrets about Canada's national shipbuilding strategy.
Qing Quentin Huang, 53, was arrested on Saturday and charged with attempting to provide secret information to a foreign entity, police in Canada said.
The Royal Canadian Mounted Police (RCMP) did not say whether Mr Huang had been successful in the alleged spying.
He faces a life sentence, and is due in court on Wednesday.
"The relevant reports about a Chinese-Canadian man suspected of providing information to the Chinese government are completely baseless," Chinese foreign ministry spokesman Hong Lei told reporters on Monday.
In a statement, the RCMP said the information in question pertained to Canada's national shipbuilding strategy, which includes patrol ships, frigates, naval auxiliary vessels, scientific research vessels and ice breakers.
"In these types of cases, sharing of information may give a foreign entity a tactical, military or competitive advantage by knowing the specifications of vessels responsible for defending Canadian waters and Canadian sovereignty," RCMP Chief Superintendent Jennifer Strachan said.
Mr Huang, from Waterdown, Ontario, worked for Lloyd's Register Canada since 2006. He faces two charges of attempting to communicate with a foreign entity information that the government of Canada is taking measures to safeguard.
Lloyd's Register Canada told Canadian media Mr Huang had been tasked with approving marine designs. The firm had recently worked on a contract for several Arctic patrol ships for the Canadian navy.
The company said he had been suspended without pay until the investigation was completed and that he had not been authorised to access classified information.