Toronto Mayor Rob Ford denies trying to buy crack video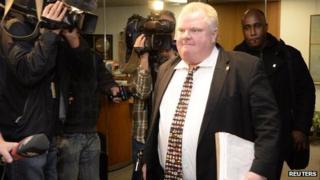 The embattled mayor of Canada's largest city Toronto, Rob Ford, has denied trying to buy a video which apparently showed him smoking crack cocaine.
Court transcripts of police wiretaps detail conversations where suspects talk about the sale of the tape to the mayor.
But in an interview with a Washington DC sports radio station, Mr Ford said the claims were an "outright lie".
Mr Ford is still in office, but has been stripped of most of his powers.
The police recording shows two suspected gang members apparently discussing an offer by Mr Ford of C$5,000 (£2,900) and a car for the video, weeks before its existence was made public.
Documents detailing the police wiretaps were released on Wednesday by a judge.
Rumours of the crack video first surfaced in May. Mr Ford initially denied its existence but in October police announced they had recovered the recording.
The 44-year-old mayor admitted early last month that he had smoked crack cocaine "in a drunken stupor" but denied he was an addict.
Healthy lifestyle
Police had been carrying out an investigation on an alleged drugs gang when the mayor's name was mentioned on wiretaps in March and April.
According to the newly released police documents, two alleged gang members are caught discussing, mainly in Somali, Mr Ford and the video.
When asked to recall what Mr Ford had said to him, one of them replies: "He said I'll give you 5,000 and a car."
The other suggests he should "ask for 150", which police in their analysis conclude the men mean $150,000.
Police have not commented directly on the disclosures, saying only that their job is to gather the evidence and present it to the courts.
Dennis Morris, Mr Ford's lawyer, said the wiretaps were snippets of talk between alleged gangsters.
"It's very dangerous to put any weight into any of this," he told the Associated Press news agency. "There's nothing to address."
Mr Ford has faced a barrage of allegations of conduct unbecoming to someone in public office, including buying illegal drugs, and drink driving - while mayor - and using lewd language on television.
He has apologised and says he has stopped drinking and adopted a healthier lifestyle.