US wife unknowingly 'live-tweets' husband's fatal crash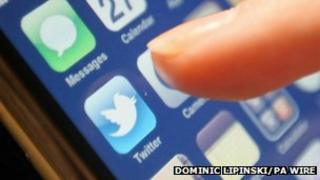 An American woman live-tweeted reports of a fatal car crash, only to find out her husband had been killed in the accident, according to US media.
Caran Johnson, of Washington state, was reportedly listening to a police scanner when she learned of the accident, writing it was "horrible".
Her tweets became frantic as she realised her husband took that route home, according to the Seattle Times.
"It's him. He died," she later reportedly tweeted.
Washington state authorities confirmed to US media that 47-year-old Craig Johnson had died in Wednesday's accident.
His Hyundai Elantra crossed into the other lane on the I-205 highway and struck a Toyota pickup truck.
'Panic'
A female driver of the Toyota reportedly suffered serious injuries.
According to reports of Ms Johnson's Twitter feed, @ScanCouver, her husband suffered from epilepsy and had been feeling faint when he left work early on Wednesday afternoon.
"I'm trying not to panic, but my husband left work early and he drives [I-205] to get home. He's not answering his phone," she wrote in tweets captured by Portland-based KGW News.
After receiving confirmation that her husband had been killed in the accident, Mrs Johnson reportedly wrote: "Thank you all so much for the prayers and thoughts. I feel like a block of cement fell on me."