New York allows medical marijuana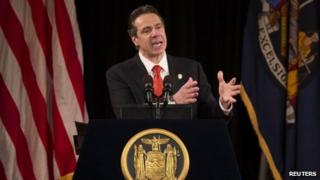 The US state of New York will allow marijuana use for medical reasons, Governor Andrew Cuomo has announced.
The Democrat said the state would allow as many as 20 hospitals to dispense the drug to patients with severe medical conditions.
New York is the 21st state to allow medical use of cannabis.
The drug is still illegal under federal law and possession of marijuana in small amounts in New York is subject to a fine.
But on 1 January Colorado became the first US state to allow shops to sell cannabis for recreational purposes.
Washington state is expected to allow the sale of marijuana later in 2014.
New York's new policy is far stricter than in other states where medical marijuana is allowed.
In California, people suffering from mild medical complaints can obtain prescriptions for the drug.
But in New York, the drug will be made available in hospitals for people with cancer, glaucoma or other serious diseases that meet standards to be set by the state department of health.
Other controlled substances like narcotics are already allowed for medical use in the state.
Mr Cuomo, who previously opposed legalising medical use, has created the programme through executive order rather than legislative action. He is sometimes tipped as a possible presidential candidate in 2016.