Standley Lake High School student sets himself on fire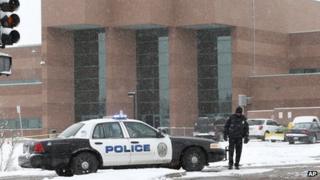 A 16-year-old student in the US state of Colorado has suffered severe burns after setting himself on fire in his high school cafeteria.
Authorities believe the incident, which occurred at 07:15 local time (14:15 GMT), was an suicide attempt and have not identified the student.
An adult suffered minor injuries putting out the blaze.
Standley Lake High School outside Denver was evacuated as officials investigated the incident.
The student was taken to a local hospital and is reported to be in critical condition.
An adult school cafeteria worker suffered a minor abrasion after breaking glass to get access to a fire extinguisher.
Several others students were nearby at the time, but none were injured.
The teenager did not make any threats before starting the fire, Westminster Police Department spokeswoman Cheri Spottke said.
Officials believe it was a suicide attempt.
"We don't have any indication that there's any threat against the high school," Ms Spottke said.