Missouri man Herbert Smulls executed as appeal fails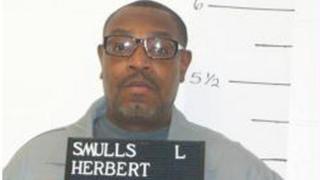 A man convicted of killing a jeweller in 1991 has been executed by lethal injection in the US state of Missouri, despite a last-minute appeal.
Herbert Smulls, 55, was killed late on Wednesday after receiving a lethal dose of pentobarbital.
His lawyers had filed an appeal challenging the type of drug used, but a stay of execution was later lifted by the US Supreme Court.
He is the sixth person to be executed in the US since the beginning of 2014.
Smulls murdered jewellery shop owner Stephen Honickman during an armed robbery in July 1991.
Mr Honickman's wife, who was shot during the attack, sustained permanent injuries.
Nine minutes to die
Smulls was pronounced dead at 22:20 local time on Wednesday (04:20 GMT on Thursday) at a state prison in Bonne Terre, nine minutes after receiving the lethal dose, officials said.
He made no final statement, but nodded to witnesses before being injected.
The US Supreme Court had granted a temporary reprieve late on Tuesday, delaying the execution scheduled for the following morning.
But after denying several last-minute appeals by Smulls' lawyers, the court lifted the reprieve.
His lawyers filed three more appeals, seeking to block the execution on multiple grounds.
They argued against the use of the compound drug pentobarbital, which they said was not as pure or potent as it should be.
Smulls' final meal - fried chicken, steak, collard greens, macaroni and cheese, candied yams, corn bread, chocolate cake and cola - was on Tuesday.