Obama to name Navy Vice-Adm Michael Rogers to lead NSA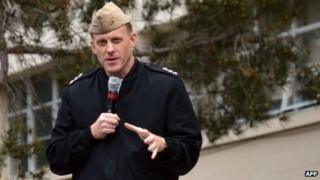 President Barack Obama will nominate Vice-Adm Michael Rogers as the new head of the US electronic spying agency, Defence Secretary Chuck Hagel has said.
He will replace Gen Keith Alexander at the helm of the National Security Agency (NSA), and also as head of the US military cyber command.
The NSA has been rocked in recent months by revelations about its spying.
Ex-NSA contractor Edward Snowden, now a fugitive in Russia, has shared reams of internal documents with journalists.
Reforms ahead
The documents have shed new light on the NSA's electronic spying operations and on its co-operation with its British counterpart, the Government Communications Headquarters.
Among other revelations, the documents showed the NSA collected data on millions of phone calls, collected millions of text messages per day, tapped the mobile phone of German Chancellor Angela Merkel, sought to collect intelligence by spying on users' mobile apps, and more.
Vice-Adm Rogers will take over in March from Air Force Gen Keith Alexander, who has been in the job nine years.
Gen Alexander has defended the NSA's practices against an often sceptical media and US public, saying they are necessary to keep the US safe.
Part of Vice-Adm Rogers's task will be to oversee a series of reforms ordered by Mr Obama in the wake of Mr Snowden's leaks and the subsequent outcry.
This month, Mr Obama ordered the agency narrowly to curb the collection of telephone metadata and said the data could only be accessed with a court's permission or in a "true emergency".
He asked the attorney general and the intelligence community to draw up plans for metadata to be held by a third party.
He also ordered the agency to cease monitoring the communications of friendly heads of state.
'Leadership and expertise'
In nominating Vice-Adm Rogers both to lead the NSA and the military cyber command, Mr Obama has rejected the recommendations of an expert panel he convened, which said the two roles should be split.
That five-person panel also said in December that Mr Obama should consider naming a civilian to lead the NSA.
Vice-Adm Rogers, a trained cryptologist and 30-year veteran of the Navy, currently commands its 10th Fleet and the Navy's cyber command.
"He has already demonstrated his leadership and deep expertise in this critical domain," Mr Hagel said.
In a nod to the ongoing debate over the NSA's authority, Mr Hagel said he was "confident that Admiral Rogers has the wisdom to help balance the demands of security, privacy, and liberty in our digital age".
While the president can unilaterally appoint an NSA director, Vice-Adm Rogers will need to be confirmed by the Senate in order to be promoted to full admiral and take over the military cyber command.