Ex-New Orleans Mayor Ray Nagin guilty of taking bribes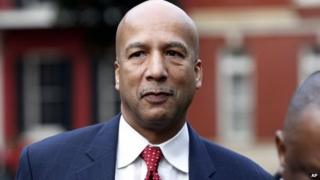 Former New Orleans Mayor Ray Nagin, who was in office during Hurricane Katrina, has been found guilty of corruption.
He helped contractors secure millions of dollars of work in exchange for bribes, free trips and other gifts.
Nagin, 56, was charged in January 2013. He was found guilty of 20 of the 21 charges against him.
Mayor of the city from 2002-10, he was criticised for failing to implement his evacuation plan when Hurricane Katrina hit New Orleans in 2005.
Before the verdict was read, Nagin said outside the New Orleans federal court that he had been "at peace with this for a long time".
Prosecutors argued during his trial Nagin took at least $500,000 (£302,000) in bribes, beginning before Hurricane Katrina but continuing during the city's recovery.
The graft included money, free vacations and tonnes of free granite for the stone company Nagin and his sons owned.
In exchange, the local businesses were awarded consulting and construction contracts with the city.
Nagin, a Democrat who served two terms, was his defence lawyers' chief witness.
During testimony he vehemently denied taking bribes, saying he was bound to approve contracts awarded to the lowest bidder or through a panel recommendation process.
At least four Nagin associates have already pleaded guilty in the case. Defence lawyers also argued the prosecution's case was built on the testimony of business owners who pleaded guilty in hopes of getting lighter sentences.
Among more than two dozen prosecution witnesses were five people who said they were involved in bribing the former mayor.
Each charge carries a sentence of three to 20 years, but how long he will serve is unclear.
The New Orleans Times-Picayune newspaper reports the former mayor will remain free on bond, but will be monitored, before his sentencing hearing.