Mississippi church collapse injures 35 youths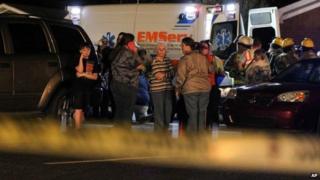 About 35 teenagers have been injured when the upper level of a church in the US state of Mississippi collapsed during a worship service.
Witnesses at the Freedom Baptist Church in Myrick described hearing a rumbling sound before the collapse.
None of the injuries were life-threatening, but 20 were brought to hospital for treatment, officials said.
About 80 young people were inside the church's Family Life Center when the floor collapsed on Wednesday evening.
Jones County Sheriff Alex Hodge said the drop was about 12ft (3.6m) to the ground floor.
The accident occurred about 19:20 local time on Wednesday (01:20 GMT Thursday)
Pastor Tommy Davis told the Chronicle newspaper: "It's got to be said that no-one was seriously injured, no-one was trapped. God's hand was certainly taking care of the kids who were in that building."