Iowa city of Northwood evacuated after fertiliser fire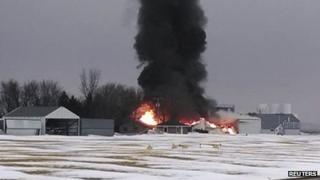 Residents of a small town in the US state of Iowa have been evacuated after a fertiliser fire at a local airport released a plume of toxic smoke.
At least four of Northwood's roughly 2,000 inhabitants have sought medical treatment.
Firefighters fought to contain the blaze at the municipal airport, as emergency crews warned the fertiliser contained sulfuric acid.
Exposure to such fumes can cause vomiting and respiratory problems.
"I urge all Iowans in this area and the surrounding areas to find a safe place until this emergency situation is resolved," Iowa Senator Tom Harkin wrote in a statement.
Local highways were closed and American Red Cross workers have been deployed to the area to assist evacuees.
Sulfuric acid - a strong corrosive chemical that can cause severe burns and tissue damage - is found in some fertilisers, cleaning materials and car batteries.