Four dead in Cedarville Rancheria tribal centre shooting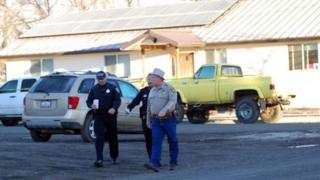 A woman who shot dead four members of her California Native American tribe was undergoing eviction proceedings from the group, police have said.
On Thursday, Cherie Lash Rhoades, 44, attacked a meeting at the Cedarville Rancheria Tribal Office in Alturas, police said.
A fifth person was wounded by gunfire and another stabbed.
Among the dead were Mr Rhoades's brother, niece and nephew. Ms Rhoades is due in court next week.
On Friday, local authorities identified the dead as Rurik Davis, 50, her brother; Angel Penn, 19, and Glenn Calonicco, 30, her niece and nephew; and Sheila Ross, 47.
The remaining shooting victim and a stabbing victim were brought to hospital in critical condition.
All were affiliated with the small federally recognised Cedarville Rancheria tribe, which belongs to the Northern Paiute Indians and has 35 members, according to its website.
"It's a huge tragedy for our community," Alturas Police Chief Ken Barnes told reporters on Friday. "We're a close-knit community and we all know each other."
According to police, Ms Rhoades - who previously served as the tribe's elected chairwoman - entered the office while 10-15 people were meeting to discuss her case.
The building also serves as a childcare centre and a school, and children were present in the building and the surrounding grounds, Mr Barnes said.
She opened fire inside the building, shooting four people and then a fifth who tried to flee, police said. When she ran out of bullets, she grabbed a kitchen knife and attacked another person, police said.
One person escaped and ran to the nearby police station to alert authorities, Mr Barnes said.
Ms Rhoades faces multiple murder and attempted murder charges.
Police found two semi-automatic handguns and a kitchen knife at the scene, Mr Barnes said.