Longest-serving US Congressman John Dingell to retire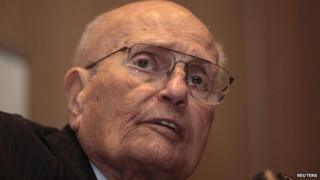 John Dingell, the longest serving congressman in US history, has announced he is retiring from office.
The Michigan Democrat was a driving force behind some of the most important liberal legislation of the past 60 years, notably health programmes.
Mr Dingell, 87, was 29 when he won a special election for his father's seat after his sudden death in 1955.
On Monday President Barack Obama called him one of the most influential legislators of all time.
And Vice-President Joe Biden, who served in Congress for 36 years, said Mr Dingell "fought for what he believed in, and got things done through relationships and his deep respect for others".
"The House and the American people are losing a great public servant. But John is gaining a well-deserved retirement, and I wish him many happy years with his family," Mr Biden said.
And one Republican consultant and pollster told the Associated Press news agency Mr Dingell was "one of the giants in American history".
Mr Dingell, who has served through the terms of 11 US presidents, announced his decision not to run for a 30th full term at a meeting with a business group in Michigan on Monday.
"I don't want people to be sorry for me," he told reporters later. "I don't want to be going out feet-first and I don't want to do less than an adequate job."
He also criticised the bitterly divided and polarised Congress as "rancorous" and "a disappointment''.
He is the latest in a series of senior Democrats to announce their retirement this year, including Senator Jay Rockefeller of West Virginia and Representative Henry Waxman of California.
Mr Dingell began his work in Congress as a congressional page in 1941, watching firsthand as President Franklin Roosevelt called on Congress to declare war on Japan after the attack on Pearl Harbor.
After serving briefly in the US military toward the end of World War Two, Mr Dingell studied law at Georgetown University and worked as a lawyer until he won the 1955 special election.
He has said his single most important vote in Congress was for the sweeping 1964 Civil Rights Act, which among other provisions forbade discrimination in employment based on race and sex. The vote almost cost him the next election.
He also played a key role in the creation of Medicare, the government-sponsored health programme for the elderly and disabled and was an early supporter of universal healthcare legislation, including President Barack Obama's 2010 healthcare law.
In a statement, Mr Obama said Mr Dingell was "one of the most influential legislators of all time" citing him as the author of key environmental laws and his "tireless fight to guarantee quality, affordable health care for every American".
"Decades after his father first introduced a bill for comprehensive health reform, John continued to introduce health care legislation at the beginning of every session," Mr Obama said.