Trenton Mayor Tony Mack removed from office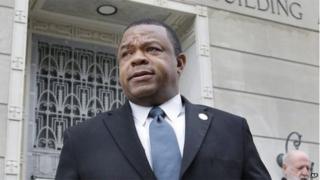 The mayor of the capital of the US state of New Jersey has been removed from office by a judge 19 days after he was found guilty of corruption.
Trenton Mayor Tony Mack had argued he should not be removed until his sentencing was complete and his appeals were exhausted in federal court.
Mack was arrested in 2012 in a government sting and accused of trying to extort bribes from developers.
He refused to resign after his 7 February conviction.
Mack has continued to draw a salary as mayor since then.
Only a conviction in a state court would have automatically required him to forfeit his office. He was charged under federal law.
"It's unfair for state officials, and it's primarily unfair for the people of the city of Trenton where their mayor has been convicted in federal court," Deputy Attorney General Steven Yomtov told the judge on Wednesday.
Judge Mary Jacobson agreed and signed an order removing Mack from office. He will also be ineligible for public office in the future and will be stripped of his state-funded pension.
Mack became Trenton's first new mayor in 20 years in 2010, but almost immediately faced accusations of cronyism in hiring and city contracting as well as a campaign finance investigation.
Prosecutors said he accepted bribes and conspired to use his influence to push through a proposed city car park project that was in fact part of a law enforcement sting operation.