Bin Laden son-in-law Abu Ghaith on trial in New York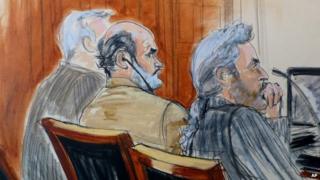 A US prosecutor has said Osama bin Laden's son-in-law used the "murderous power of his words" to rally others against America after the 9/11 attacks.
The statement came during opening arguments in the terrorism trial of Sulaiman Abu Ghaith, who once served as al-Qaeda's spokesman.
Mr Abu Ghaith, 47, has pleaded not guilty to charges he conspired to kill Americans.
The Kuwaiti national was brought to New York from Turkey last year.
Prosecutors say he appeared in videos with bin Laden the day after the 11 September 2001 attacks on New York and Washington DC that killed almost 3,000, calling for jihad against "the Jews, the Christians and the Americans".
Assistant US Attorney Nicholas Lewin described Mr Abu Ghaith as a fiery orator who had spoken to those training in al-Qaeda camps in the months before the attacks in order to inspire them.
Mr Lewin said Mr Abu Ghaith had agreed to appear in the group's videos to call for further violence "while our buildings still burned".
"He invoked his twisted view of Islam and declared 'Fight thee against the friends of Satan. Fight with al-Qaeda against America.'
"For more than a year after, the defendant used the murderous power of his words to try to strengthen al-Qaeda."
The Kuwaiti imam is married to the deceased al-Qaeda leader's eldest daughter, Fatima. He is the highest-ranking al-Qaeda official to stand trial in the US since the attacks.
He was turned over to US officials in Jordan in 2013 after being deported from Turkey.
On Wednesday, Mr Abu Ghaith's lawyer mocked the prosecution's opening statement.
"You've just been to the movies ladies and gentlemen," Stanley Cohen said. "At the end of the day, there's really no evidence. There is the substitution for evidence with fright and alarm."
He told them some of what Mr Abu Ghaith had said was "dumb. It's stupid."
But he asked jurors to keep an open mind, saying his client was not bin Laden and the trial is not about the 11 September plot.
The Obama administration's decision to try him in civilian court had been criticised by Republicans.
They said Mr Abu Ghaith should be sent to the US detention centre at Guantanamo Bay, Cuba, to face a military tribunal.