Boy, 14, charged with shooting dead bystander on New York City bus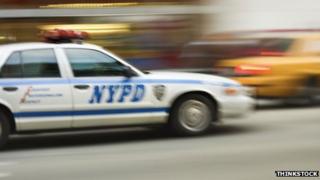 A 14-year-old boy has been arrested after allegedly firing a gun on a New York City bus in a suspected gang dispute, killing an innocent bystander.
Angel Rojas, 39, reportedly a Dominican immigrant and married father of two, was shot in the head.
Authorities have not located the intended target of the shooting, but have detained a teenager and the weapon he allegedly used.
New York City's homicide rate fell to a record low last year.
The shooting occurred on a bus in Brooklyn on Thursday evening.
Woodlyn Fenelus, a volunteer ambulance worker, told CBS News: "There was a lot of blood everywhere, and I saw the patient leaning against the window of the bus, holding his neck because of the injury. He was still alive."
As passengers fled, the suspect got off the bus, in the Bedford-Stuyvesant district, and fired five more shots at a person running away.
Mr Rojas was taken to hospital, but died a short time later.
The New York Daily News reports that Mr Rojas' wife fell to her knees and wept when she was told of his death, at their apartment in Brownsville, east Brooklyn.