Russia bars Canadian officials over Crimea sanctions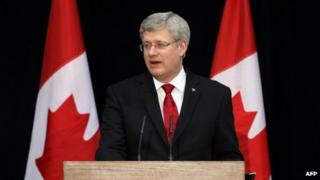 More than a dozen Canadian officials have been barred from ever entering Russia in response to sanctions imposed over Moscow's annexation of Crimea.
Aides to Canadian PM Stephen Harper and members of parliament were among those targeted by the retaliatory sanctions.
Russia's foreign ministry blamed its move on "unacceptable action by the Canadian side that has inflicted serious damage to bilateral relations".
Mr Harper himself visited Ukraine on Saturday, and spoke out against Russia.
He called for a "complete reversal" of Crimea's annexation and recommended Russia's removal from the Group of Eight nations.
Andrew Scheer, the House of Commons Speaker, Peter Van Loan, the government leader in the house, and other Canadian lawmakers are on the Russian blacklist.
Moscow annexed Crimea this month after a referendum that Ukraine and the West considered illegal.
The US and EU have responded with a series of sanctions targeting individuals, including senior officials, whom they accuse of involvement in Crimea's annexation.