LA police station gunman 'had AK-47 in his car'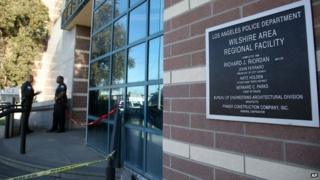 A gunman who opened fire inside a Los Angeles police station, wounding an officer, left a powerful assault rifle in his car outside, police have said.
Daniel Yealu, 29, entered the lobby on Monday night, said he had a complaint, then began shooting, police said.
He hit one officer several times before he was wounded in the ensuing shootout, police said.
The suspected gunman is in critical condition in hospital while the wounded officer is expected to recover.
Los Angeles Police Chief Charlie Beck said Mr Yealu had left an AK-47 rifle in his vehicle parked outside the station.
"By the grace of God, the suspect did not come in with the assault weapons that he has had access to, one of which I believe was in his vehicle," Mr Beck said, according to the Los Angeles Times.
Officials also found ammunition and several weapons including two assault-style rifles, a shotgun and two handguns at Mr Yealu's home.
Records showed he had been licensed to work as a security guard since 2005 and to carry a firearm since 2007.
Police say the shooting began shortly after 20:00 local time on Monday (03:00 GMT Tuesday), when a gunman entered the station's small lobby and approached its front desk.
The gunman said "I have a complaint", before he began shooting at the officers, Cdr Andrew Smith said.
Despite one of them being wounded, both were able to return fire, hitting the suspect several times.
No-one else was injured in the shooting and police say they know of no motive yet for the attack.