Three charged in Detroit 'mob beating'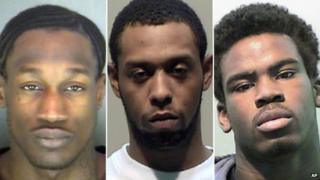 Three men have been charged in connection with the mob beating of a Michigan man who accidently hit a young child with his lorry in Detroit.
Wonzey Saffold, 30, James Davis, 24, and Bruce Wimbush Jr, 17 are accused of taking part in the attack which left Steven Utash, 54, unconscious.
Police believe as many as 12 people were involved in the beating last Wednesday
The 10-year-old boy hit by Mr Utash has been treated for a leg injury.
'Hatred'
Mr Wimbush was the first to appear in front of a court via video on Tuesday, pleading not guilty.
Defence lawyer Randall Upshaw says the 17-year-old and his parents voluntarily went to police after his name surfaced in connection to the attack. He called the $500,000 (£299,000) bond "excessive".
A 16-year-old boy allegedly involved in the attack is also in custody but has not been charged.
Mr Utash's son told a local radio station he believed the attack was racially motivated. The 54-year-old is white and the alleged attackers are black.
"It's like you pulled up after there was already nine people on my dad and started kicking my dad," Joe Utash told WWJ Newsradio 950.
"What possessed you to do that besides hatred in your heart?... It has to be like a racial thing," he said.
Police say hate crime charges have not been filed, but officials have nor ruled them out.
According to local broadcaster WXYZ, retired nurse Deborah Hughes helped end the attack.
She was attending to the boy's injuries when an angry crowd began beating Mr Utash.
"It wasn't right," Ms Hughes told the broadcaster, adding 100 people were standing by but she was the only one who told the group to stop.
"I got over there and I told them 'Don't nobody hit him anymore,'" Ms Hughes said. "I had a gun in my pocket, I was ready to do some damage if I had to."
Detroit, a sprawling but increasingly empty city which recently filed for bankruptcy, has seen a 40% reduction of police staffing in the past 10 years. The city's police chief told residents early this year that arming themselves could help deter crime.
Mr Utash remains in hospital and has been in critical condition since the attack.