Tributes for ex-Canadian Finance Minister Jim Flaherty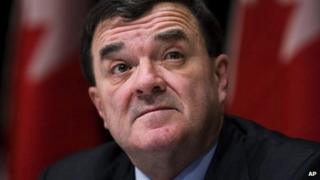 Tributes have poured in for former Canadian Finance Minister Jim Flaherty, who died just three weeks after resigning from office.
Mr Flaherty, 64, suffered a heart attack on Thursday in Ottawa, his family said.
As finance minister from 2006, he helped oversee Canada's relatively smooth recovery from the global financial crisis.
Mr Flaherty resigned on 18 March to return to the private sector.
'Loved his country'
"My partner and my friend, Jim Flaherty, has passed away suddenly. This comes as an unexpected and a terrible shock," Canadian PM Stephen Harper said on Thursday as wife Laureen Harper wiped away tears.
Members of the Canadian parliament remembered the former finance minister on Friday morning in lieu of the usual question period, with flowers placed on Flaherty's former desk in the Commons.
Labour Minister Kellie Leich said Flaherty "loved his country and served it with a heart as big as the country itself".
"The gap he has left will not soon be filled."
Opposition New Democrat MP Peter Julian described him as a "genuine, decent and kind" political adversary.
"The sudden passing of Jim serves as a brutal reminder to us all that beyond the partisan functions we're elected for, we are human beings, and we have a lot more in common than some of our differences," Mr Julian said.
Flaherty was the longest-serving finance minister among the G7 group of leading industrial economies.
Australian Treasury Minister and G20 chairman Joe Hockey described Mr Flaherty as "a very decent man, heartfelt in his determination to deliver to Canada a better quality of life".
US Treasury Secretary Jacob Lew said the former Canadian finance minister had been admired and respected by world leaders.
"Known for his drive and hard work, Jim was instrumental in helping Canada navigate the global financial crisis," he wrote in a statement.
Flaherty suffered from a rare skin condition known as bullous pemphigoid, requiring medication which led to weight gain.
Prior to his role as finance minister, he served as attorney general and deputy premier in Ontario. He is survived by his wife, Christine, and three sons.
He was succeeded as finance minister by former natural resources minister and investment banker Joe Oliver.