NBC will air Olympics in US through 2032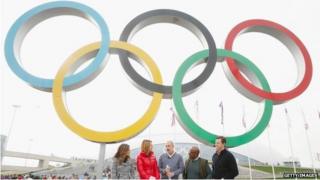 Broadcaster NBC has extended its contract to exclusively air the Olympic Games in the US through 2032.
The contract, made with Comcast's media unit, NBC Universal, is worth $7.7bn (£4.5bn) and covers television, internet and mobile rights.
US broadcasters have increased their competition for live sports as such programmes attract large audiences watching in real time.
NBC previously spent $4.38bn for the broadcasting rights through 2020.
Executives for the media firm said they expected that contract to be profitable, although NBC has not always benefitted from its Olympics coverage, losing $223m from the 2010 Vancouver games.
But the events usually deliver huge ratings for the broadcaster and the company's associated cable channels.
NBC has held the exclusive US rights for the Summer Olympics since 1988 and the Winter Olympics since 2002.
In recent years it has come under fire for tape-delaying certain events for US primetime hours. For the 2014 Winter Olympics, the network live-streamed all sporting events to cable customers but re-aired popular events during primetime hours.
"This agreement is excellent news for the entire Olympic movement as it helps to ensure its financial security in the long term, in particular future host cities of the Olympic Games," IOC President Thomas Bach said in a joint statement with NBC Universal.
"This is one of the most important days in the history of NBC Universal," chief executive Steve Burke said. "I want to thank the IOC for their faith in us."
NBC also agreed to spend a separate $100m promoting the Olympics between 2015 and 2020.
The host cities for the Olympic Games from 2022 and beyond have not yet been decided.