IRS targeting: Lois Lerner held in contempt of Congress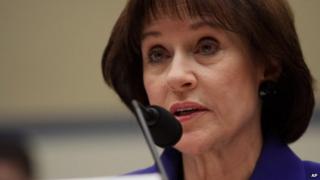 A US tax official who came under fire last year has been held in contempt of Congress for refusing to testify at congressional panel hearings.
Lois Lerner was embroiled in a row over extra scrutiny given to conservative political groups seeking tax exemption.
The House of Representatives vote was 231-187, with all Republicans voting in favour of the measure and all but a few Democrats voting against it.
Ms Lerner, who retired after being put on leave, has denied any wrongdoing.
An inspector general's office report found no political motives behind the targeting, but many Republicans in Congress believe otherwise.
A US official charged with contempt by the House can be punished with a fine or jail.
With Wednesday's vote, the decision to further pursue punishments rests with US Attorney for the District of Columbia Ronald Machen.
In a statement on Wednesday her lawyer, William Taylor, said the vote to hold Ms Lerner in contempt was "nothing to do with the facts or the law".
"Its only purpose is to keep the baseless IRS 'conspiracy' alive through the mid-term elections."
'Who's been fired?'
In May 2013, Ms Lerner disclosed officials in her division of the Internal Revenue Service (IRS) had improperly singled out tax-exempt applications by social welfare groups with keywords like "tea party" for extra, sometimes lengthy scrutiny.
Most of the groups were applying for tax-exempt status as social welfare organisations. IRS regulations say such groups may engage in electoral politics, but it cannot be their primary mission.
IRS agents were attempting to determine if the groups were crossing that line, but largely targeted conservative-sounding groups.
The inspector general report blamed the improper scrutiny on poor management but found no evidence of a political conspiracy.
But many Republicans, including those in Congress who called on Ms Lerner to testify in a pair of hearings, were not convinced.
"Who's been fired over the targeting of conservative groups by the IRS? No one that I'm aware of,'' House Speaker John Boehner said on Wednesday.
"Who's gone to jail for violating the law? When is the administration going to tell the American people the truth?"
Congressional investigations have revealed that IRS officials in Washington were more involved than the tax agency initially acknowledged.
But the House inquiry has not established anyone outside the IRS knew about the targeting before the inspector general's investigation.
Democrats dismissed the largely party-line vote as an election year ploy to excite conservative support.
"Welcome to witch hunt week," said Massachusetts Representative Jim McGovern.
At committee hearings on the targeting, Ms Lerner has refused to testify, citing her right afforded by the US constitution to not incriminate herself.
Mr Taylor later said his client refused to answer questions because committee Republicans were only looking to vilify her on television.
Mr Machen was appointed by President Barack Obama and has not taken any action on a previous House vote that held the nation's top law enforcement officials, Attorney General Eric Holder, in contempt.