Isidro Garcia pleads not guilty in kidnapping of girl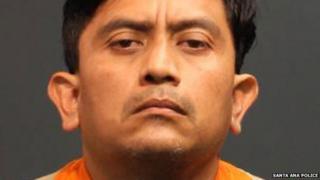 A man accused of kidnapping a teenager, holding her captive for 10 years and forcing her to marry him has pleaded not guilty in a California court.
Isidro Garcia, 41, is charged with rape, lewd acts on a minor, and kidnapping to commit a sexual offence.
The woman had a child with the alleged kidnapper. She contacted police after getting in touch with her sister on Facebook, authorities said.
Mr Garcia's lawyer says the woman lied because the couple were separating.
"We are really looking forward to our day in court," lawyer Charles Frisco told reporters on Monday.
"There is no corroborating evidence that I can see that she was in any fashion sexually, mentally or physically abused."
Prosecutors say the abuse began in 2004 when Mr Garcia was dating the victim's mother and residing with her and her daughters in Santa Ana, a city in Orange County.
In August of that year, he assaulted the victim's mother and drugged the teenager, then 15 and recently arrived from Mexico, police said.
He kidnapped her, telling her she would be deported if she told authorities, and drove her 26 miles (42km) north to Compton, in Los Angeles county, where he locked her in a garage, police said.
Behind closed doors
In 2007 he forced the woman to marry him and the couple later had a daughter, now age three, police said.
Mr Garcia allegedly told the victim her family had given up looking for her. The woman twice tried to escape but he beat her severely, police said.
The woman, now 25, later held a job and had her own car, police said.
Recently the woman contacted her sister on Facebook and learned that her mother had indeed been trying to find her through a Spanish-language newspaper and television station.
Neighbours described the couple as "happy" prior to the allegations against Mr Garcia.
"I think maybe she got tired of him, who knows?" Jose Polanco told the Associated Press news agency.
Prosecutor Whitney Bokosky said following the hearing on Monday that the charges against Mr Garcia stem from alleged incidents when the girl was a minor.
"Neighbours don't know what goes on behind closed doors," she said.