Suspected sex offender is killed in New York shootout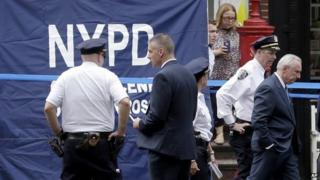 A suspected child sex offender resisting arrest has been killed and three New York law enforcement officers injured in a daytime shootout in Manhattan, police have said.
The dead man was wanted by police in San Diego in connection with numerous child molestation allegations.
He had featured on a CNN crime watch show as a wanted fugitive.
The suspect was shot and killed in a gun battle that erupted in tobacco shop in a normally quiet part of the city.
Police quoted by the AP news agency said that the wounded officers were in a stable condition.
The New York Times reported police as saying that one detective was shot twice in the torso, a marshal was shot in the buttocks and another was shot in the shoulder.
It said that the dead man, whom it named as Charles Mozdir, had been on the run since June 2012.
His case - and the police manhunt for him - drew national attention after it was featured on CNN's "The Hunt," which is broadcast on Sunday evenings.
Shootout witness Edoardo Gelardin described the gun battle to AP as "shocking and out-of-place".
He said that he saw officers loading the victims into ambulances and officers with assault weapons sealing off the scene.
"It was a little overwhelming to see a scene like that," he said.