Axe crashes through driver's window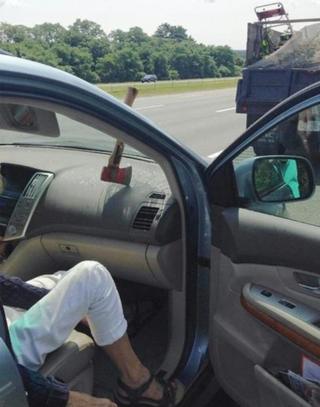 A car passenger is "shaken up" after an axe flew off the back of a lorry on a motorway and crashed midway through the windscreen, police say.
Massachusetts State Police said the passenger was uninjured but they have fined a landscaper $200 for failing to properly secure the axe.
The incident happened around 11:00 local time on the busy I-95 motorway.
Police said if the driver had been going faster, the axe might have hit someone in the car.
"We are very thankful that this situation did not have a worse ending," state police said in a Facebook post.
"The passenger, who is partially seen in the photo, was shaken up (who wouldn't be?) but not injured," they wrote.