Ebola crisis: NY patient tested after return from Africa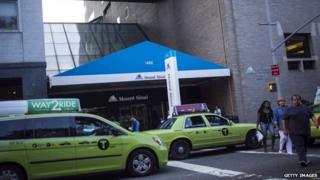 A US man who became sick after visiting West Africa last month is being tested for Ebola, health officials have said.
It is seen as unlikely the man has the disease, but doctors at Mount Sinai hospital in New York say they will have a definite answer by Tuesday morning.
Two American aid workers who were working in West Africa are known to have contracted the deadly virus.
The recent Ebola outbreak has killed at least 887 people, mostly in Liberia, Guinea and Sierra Leone.
Strict isolation
Doctors at Mount Sinai Hospital said the man arrived in the emergency room early Monday morning with a high fever and gastrointestinal symptoms.
"Odds are this is not Ebola," Dr Jeremy Boal, Mount Sinai's chief medical officer told reporters.
The patient told staff he had recently travelled to a West African country where Ebola had been reported, doctors said. He has been placed in strict isolation.
The two Americans known to be infected with Ebola have been evacuated from Liberia, where they were working for a Christian aid group.
On Monday, Nancy Writebol boarded a plane from Liberia bound to Atlanta for treatment, the Associated Press reported.
High mortality
At the weekend, another American infected with the virus, Dr Kent Brantly, arrived in the US and was said to be improving at an isolation unit at Emory University Hospital in Atlanta.
After the plane landed at a base outside the city, Dr Brantly was brought to hospital by an ambulance alongside a police escort. Dressed entirely in white protective clothing, he walked unaided into the hospital.
According to the UN, more than 60 of the Ebola deaths so far have been healthcare workers.
There is no cure or vaccine for Ebola, but patients have a better chance of survival if they receive early treatment.
The current outbreak is killing between 50% and 60% of people infected. Initial flu-like symptoms can lead to external haemorrhaging from areas like eyes and gums, and internal bleeding which can lead to organ failure.