US shelters for border-crossing children to close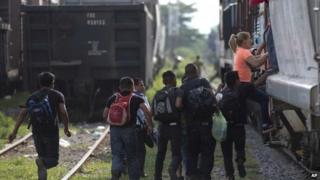 Three emergency shelters housing an influx of children from Central America who entered the US illegally will be closed in the upcoming weeks.
The US health agency, which manages the shelters, says fewer children were crossing the border and they were adding capacity in standard shelters.
More than 57,000 children have crossed the southwest US border since October.
Efforts to increase resources in response to the crisis have so far failed in Congress.
Both the House and Senate have rejected a $3.7bn (£2.2bn) funding request from President Barack Obama, creating their own competing bills about how to respond.
The three shelters, all on US military bases, were holding unaccompanied children under a 2008 law requiring minors from countries not bordering the US be handed over to the Health and Human Services Department (HHS) with 72 hours of being caught by US border officials.
The young migrants are usually held in shelters, many run by non-profit groups, until a relative or other sponsor in the US can be found to house them while they await a deportation hearing.
Most of the children are from El Salvador, Guatemala and Honduras - driven north by a spike in gang violence in their home countries, by extreme poverty, and amid incorrect rumours children will be allowed to stay if they make it across the border.
In a statement, HHS spokesman Kenneth Wolfe said the agency expected an emergency shelter at Fort Sill in Oklahoma to close down by 8 August.
The other two locations - in Texas and California - were expected to close within between two and eight weeks.
But Mr Wolfe added there was "substantial uncertainty about the future flows of unaccompanied children" and the shelters could reopen if needed.
Obama administration officials have estimated as many as 90,000 children could attempt to cross the border by the end of the fiscal year in September.
The number of children attempting to cross the border has dropped from as many as 2,000 a week in June to about 500 a week in mid-July, according to the US homeland security department.
The agency did not ascribe a single factor to the decline but migration tends to decline during the hottest summer months, according to the Associated Press news agency.