Ferguson police face new probe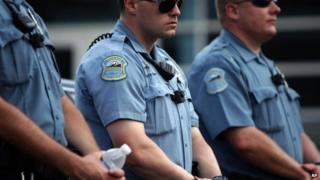 The US government will launch an investigation into policing practices in Ferguson, Missouri, after the killing of a black teenager.
The Department of Justice will look for any patterns of discrimination and the possible use of excessive force.
It is separate from an FBI investigation into the killing of Michael Brown, 18, by a white officer.
His death on 9 August led to a national outcry and sometimes violent protests in the majority-black suburb.
Many local residents saw the shooting as an example of white police brutality.
Eye-witnesses have said Mr Brown raised his hands in a gesture of surrender before he was shot multiple times by Officer Darren Wilson after being stopped for jaywalking.
Police accounts have disputed this, saying there was a struggle between Mr Brown and Mr Wilson which led to the shooting.
A grand jury is hearing evidence to decide whether to charge Mr Wilson with a crime, but it is unclear when they will make a decision.
The justice department probe into Ferguson's police will look into years of records about how the force operates and may expand to other law enforcement groups in St Louis county.
Attorney General Eric Holder told reporters many people had described a feeling of deep mistrust between law enforcement and community members during his visit to Ferguson last month.
"These anecdotal accounts underscored the history of mistrust of law enforcement in Ferguson that has received a good deal of attention.
"As a result of this history - and following an extensive review of documented allegations and other available data - we have determined that there is cause for the justice department to open an investigation."
Mr Holder added a separate civil rights investigation into the shooting of Mr Brown "remains open and very active".
The city's police chief told the New York Times his force had "no intentional policies or procedures which discriminated or violated civil rights".
"But if we have anything there which may unintentionally do that, we need to know about it," Chief Thomas Jackson told the newspaper, adding "any help we can get to help fill those gaps and to make ourselves stronger, we welcome."
Ferguson's police force is more than 90% white, while its population is more than 60% black.
Under Mr Holder, the department has opened twice the number of investigations into local law enforcement for discriminatory policing than in the previous five years.
Such probes began after a 1994 law gave the US power to investigate allegations of unconstitutional behaviour by local police departments.
They often end in court-enforced changes to law enforcement policies. The justice department is enforcing 13 such settlements, according to the New York Times.
A similar year-long investigation found police in the city of Albuquerque, New Mexico, had killed suspects who posed minimal or no threat to others and used more force on those with mental illnesses.