Michael Brandon Hill sentenced to 20 years in prison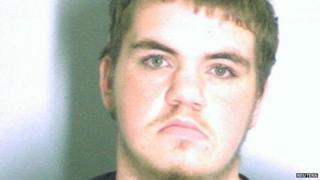 A man persuaded by an Atlanta-area school worker to surrender rather than go on a shooting rampage has been sentenced to 20 years in prison.
Michael Brandon Hill, 21, walked inside Ronald McNair Discovery Learning Academy in August 2013 with a rifle and nearly 500 rounds, and exchanged gunfire with police.
A school bookkeeper, Antoinette Tuff, convinced Hill to surrender.
He pleaded guilty to multiple charges in DeKalb County Superior Court.
The counts include aggravated assault, terroristic threats and firearms violations.
His lawyer has said he had a history of mental illness and was trying to kill himself, but a judge rejected a call for a lesser sentence, according to the Atlanta Journal-Constitution.
Ms Tuff, who was called by US President Barack Obama after her story became public, can be heard on recorded calls to police calmly trying to convince Hill to lay down the rifle.
She kept Hill engaged by telling him about her own difficulties in life, including raising a disabled child, losing her husband, and failing in business.
Ms Tuff reassured him he could still surrender peacefully.
"We're not gonna hate you, baby. It's a good thing that you're giving up," Ms Tuff said after Hill put his weapons and ammunition down.
She later told broadcaster ABC the suspect had told her "he was sorry for what he was doing. He was willing to die".
"I knew that if he got out that door he was going to kill everybody," she told a local broadcaster in a separate interview.