NY mystery bear 'was killed by car'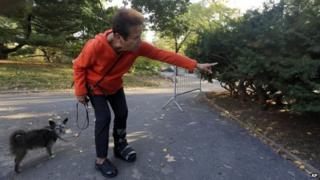 The dead bear cub found in New York's Central Park on Monday died after being struck by a car, officials have said.
But the investigation continues into how the female black bear ended up under a bush in a park at the centre of one of America's most crowded cities.
Black bears once lived in area but have not in many years.
They may not be kept as pets and none had been reported missing from local zoos. The borough of Manhattan, where the park is located, is an island.
The bear cub was a six-month-old female weighing 44lb (20kg), the New York State Department of Environmental Conservation said on Twitter.
The discovery of the furry corpse under a bush on the west side of the park - reportedly by a dog on a walk - stunned tourists, locals, conservation officials and police alike.
The bear's death is being investigated as a crime.
Bears are native to the region, though none have been seen in New York City in a long time.
New Jersey, across the Hudson River from New York City, has one of the largest black bear densities in the US.
In that state last month, a black bear killed a university student out for a hike.